Intelligent Human Resource Management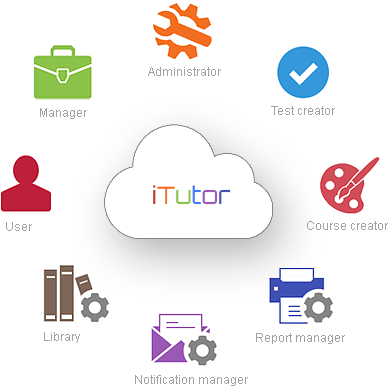 The iTutor platform integrates the Learning Management System (LMS), performance and talent management tools and tools for cooperation. iTutor implements the latest trends in e-learning, interactive, contextual, pro-active learning, social cooperation, gamification, recruitment tools, talent development and high-potentials discover tools, and tools for measuring and evaluating human capital performance. iTutor will enable your employees, partners, students or customers to grow professionally and do their job better.
The modular architecture of iTutor allows you to gradually integrate the individual functionalities according to how your organization grows.
You can use the platform iTutor in the cloud or as an in-house solution installed in your infrastructure.
Services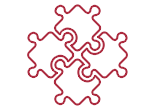 Integration
We will connect our software with your systems, customize its functionality or appearance to meet your specific needs.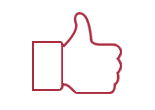 Best practices
We will help you to fill our solutions with educational content and to apply new forms of education, cooperation and human capital management in your organization.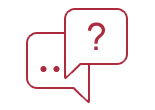 Support
We will provide you with all the services needed for long-term and successful operation of the solution.
With our solution, your employees will be smarter, more productive, more satisfied and better at their work, and your organization will better achieve its goals.
Why to choose our solution
| | |
| --- | --- |
| | A unified platform and services to address all the needs of the Human Resource Management |
| | A modular solution growing with the needs of your organization |
| | An open solution integrating third-party products |
| | Cloud or in-house operation |
| | We are platform producers so we can quickly and flexibly customize our solution to your requirements |
| | A reliable solution with hundreds of satisfied customers, more than ½ million students use the system daily |
| | |
| --- | --- |
| | Experience with global projects, we have implemented our solutions in many European countries |
| | Tradition and reliability - we have been operating in the market since 1994 |
| | More than 50% of the revenue reinvested in system development, in the solutions we continuously bring new trends into Human Resources Management as well as inspiration for your organization |
| | And in particular we enjoy our work. And therefore we believe that we give our customers solutions that bring them results so they enjoy using them |
The company Kontis offered us not only the products we were looking for in the market, but also excellent services to implement the entire system, including a related service. With the introduction of LMS iTutor, we have acquired a powerful tool that enables us to bring modern training courses to our employees and to effectively manage the organization of presentation training. Kontis s.r.o. can respond very flexibly and offer solutions tailored to our requirements.

Richard Köhler, HR Senior Specialist, ČEZ,a.s.
The Commercial Bank (Komerční banka) was looking for a system that would allow electronic testing to be used in areas where presentation training is not necessary and where the maximum number of employees is to be trained in the short term. When selecting a supplier, emphasis was placed on the professionalism and quality of the services offered, so that the application was user-friendly and administrator-friendly. These requirements were best fulfilled by the company Kontis and its product iTutor.

Jaroslava Jelínková, Head of Professional Training, KB,a.s.
The company Kontis has been able to fully meet our high requirements on the e-learning trainings, and our ongoing collaboration and expansion of solutions to other countries is the best proof of this.

Petra Růžičková, Training Specialist, T-Mobile
LMS iTutor has brought a new direction into our company in the field of education management. The e-learning courses greatly contribute to improving the knowledge of our employees, which is absolutely necessary to maintain our market position in the field.

Lucie Grusová, Internal Communications Manager, DATART International,a.s.
Training/Education
E-learning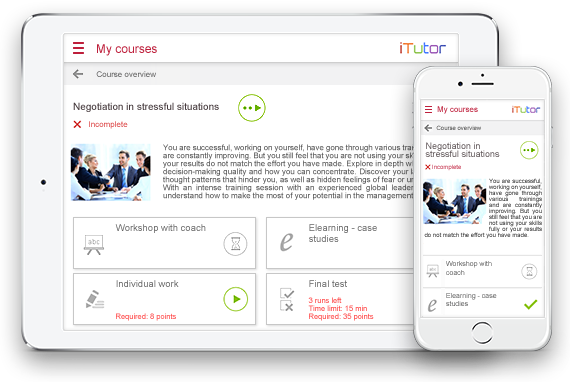 iTutor LMS
is a powerful learning management system implementing the latest trends in e-learning. Interactive, contextual, pro-active learning, personalization, social collaboration, gamification and many other features will enable your students to be effectively educated, to grow professionally and do their job better.
Full support for the standards SCORM and AICC
Distribution of interactive, engaging, and personalized learning content to any student device, desktop, tablet, mobile phone.
Adaptation and training plans, priority visualization, blended learning for fully personalized learning
Social groups and communication channels for the interconnection and cooperation of students, lecturers and managers
Certification, automation, notifications, reporting, analyses and much more
The company České dráhy using iTutor LMS teaches and tests tens of thousands of its employees in the areas required by the Railways Act.
The company Volkswagen Financial Services uses adaptation and training plans to fully train all dealers in their dealer network.
E-courses
iTutor Publisher is a professional team development environment for the rapid development of e-courses by their own. Without knowledge of programming or HTML, you can fully take control of creating multimedia and interactive courses
Creation of courses SCORM or AICC from pre-prepared templates
Importing PowerPoint presentations and converting them to interactive courses
Intuitive composing of courses from texts, buttons, pictures, questions, animations, videos or sounds, interactive interaction guides
Saving the course and its parts in the database, sharing parts of the course with other developers and re-using them in other courses
We offer dozens of finished interactive multimedia e-courses of our production or from our partners from our partner network. Any e-courses, fulfilling or even not fulfilling the standards AICC or SCORM, can be imported into the iTutor.
We will prepare any custom e-course, we have developed over 400 such courses for dozens of our satisfied customers. You can further develop and modify these courses in the iTutor.
Examples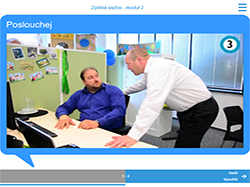 ČSOB - 360 Feedback
ČEZ - Quality Management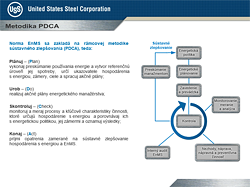 United States Steel Corp. - EMS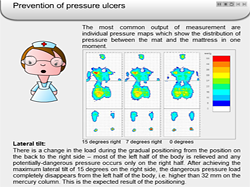 Linet Latera
In the company Linet we train in our Latera or Elgenza Smart courses, which are localized in many languages
For the company Komerční banka we have developed a competition course and a professional examination of insurance intermediaries
More information in the references
Testing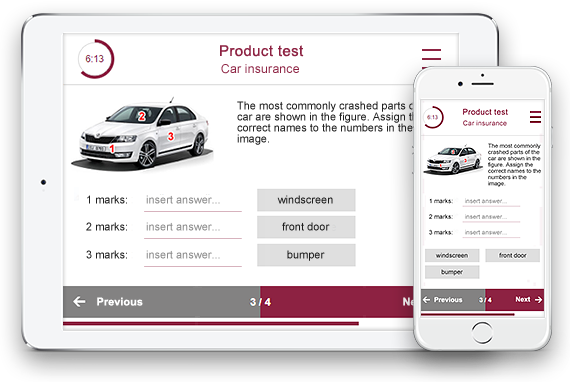 iTutor Tester

allows you to design sophisticated tests or questionnaires, make it available to students on any device, including mobile phones or tablets, and comprehensively evaluate the results.
a rich set of different types of questions from single choice to drag & drop, support of multimedia in questions, formula editor
organizing questions in the hierarchical database by topic
a comprehensive set of rules for method how to select questions in the test, setting the behavior of the test, determining the feedback and how to evaluate the result
classroom supervised tests, with central online tracking of attendant's answers and registration via iTutor Catalog
importing questions and test rules from a number of external sources, such as importing ČNB (Czech national bank) tests for legal certification under Act No. 257/2016 Coll., on Consumer credit
The company České dráhy uses the iTutor Tester to tests tens of thousands of its employees in the areas required by the Railways Act.
innogy uses the iTutor Tester to test the necessary knowledge of its employees.
Education catalog
With the

iTutor Catalog

you will build an extensive on-line catalogue of internal and external courses and e-courses offered by you, you will plan and organize educational events, evaluate their success, and effectively manage budgets and educational resources.
A multimedia catalogue of external and internal courses combining the offer of classroom and e-learning training
A personalized offer, individual development plans
Registration and nomination processes, requests for new courses, multi-level approval, monitoring budgets and resources
Support of the whole process from the requirement on an educational event, through approval, organization of participants, resources and providers, to the evaluation of success
A library, reservation and lending of physical learning materials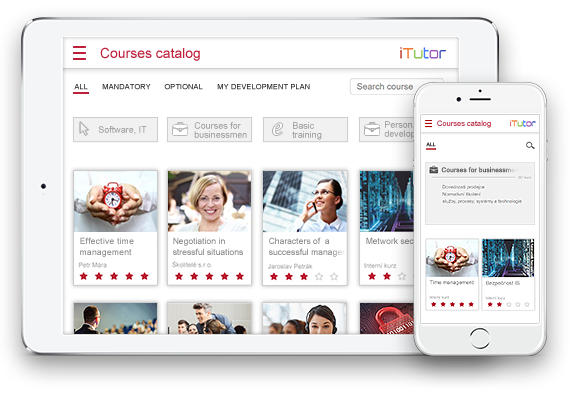 The O2 employees have an accessible central catalogue of education in their iTutor, accessed from their mobile phones.
ČEZ uses a multimedia catalogue to cooperate with its partners in organizing educational events.
More information in the references
Academy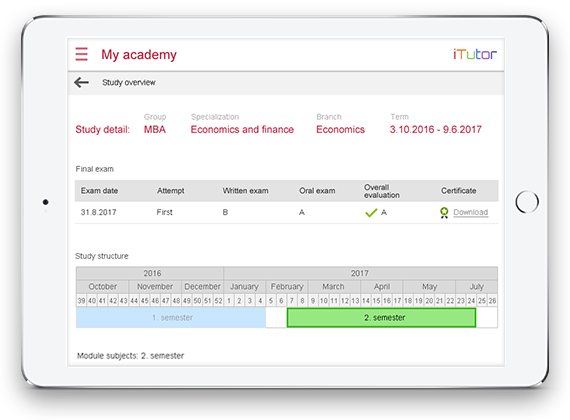 Do you need highly qualified and specialized staff? With

iTutor Academy

you can easily build your own corporate academy where you can provide specialized training to selected employees with a level and quality comparable to that of a college or vocational school. The iTutor Academy allows different types of schools to be able to effectively manage both classical and distance learning.
definitions of different types of studies, semesters, subjects
linking Academy subjects with test in the iTutor Tester or courses and tasks in the iTutor LMS , automatic transfer of credits and grades
arrangement of academy terms, registration and administration of students, communication with students using iTutor LMS communication channels, writting down of credits and subject exams, final exams
generating of certificates, diplomas, linking with qualifications in the iTutor Qualifications
The ČEZ company uses iTutor Academy for the specialized training of its highly qualified employees.
More information in the references
Performance management
Goals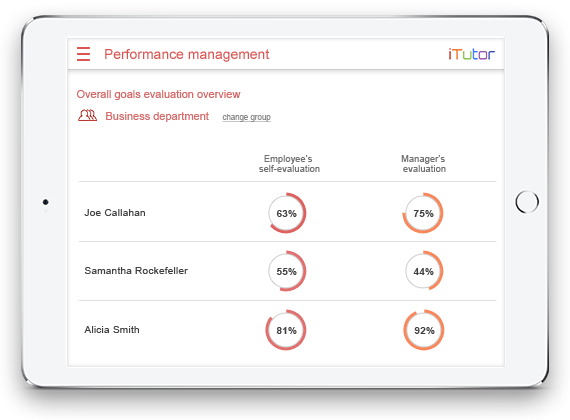 With the

iTutor MBO

, you can effectively set individual goals for employees, which correspond with the management goals and strategic goals of the company. You will effectively measure the achievement of these goals, give feedback to employees about their performance, and reward them for their performance.
Definition of the strategic goals of the company, their breakdown into individual divisions and departments of the company, to specific employees
Planning of goal evaluation, phase support for goal definitions and n-step evaluation of their performance by both the manager and the employee
Goal evaluation, performance calculations, automatic notification for individual evaluation phases
Interconnection with rewards, the process of calculating bonuses and rewards
Jan Becher uses iTutor to plan and evaluate the goals of his employees.
Poštová banka manages the goals of all its employees in iTutor.
More information in the references
Qualifications
For the everyday operation of the company and for meeting long-term strategic goals, you need qualified employees. The qualification model of the company and the rules for the fulfilment of qualifications in

iTutor Qualifications

ensure that all employees complete statutory and corporate training for their job and complete all the other requirements needed to carry out their work, such as health checks or the level of education attained. iTutor automates the regular renewal of such qualifications for all employees.
Definition of qualifications and their assignment to job positions
Complex rules for fulfilling qualifications by completing courses in the iTutor LMS, examinations in the iTutor Medical Fitness, tests or studies at a the corporate academy iTutor Academy
Certification, automation of restoring qualifications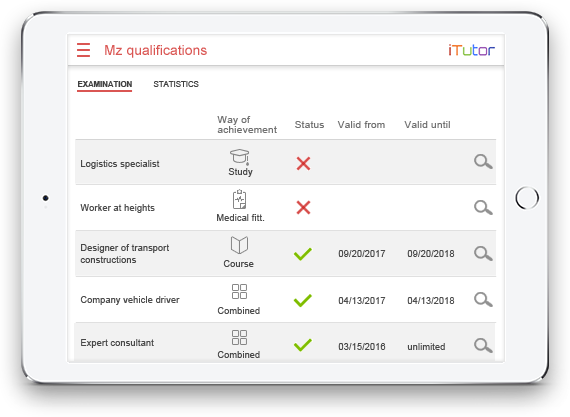 ČEZ uses iTutor to perform and control the qualifications of all its employees.
Česká pošta manages the qualifications of all its employees in iTutor.
More information in the references
Medical Fitness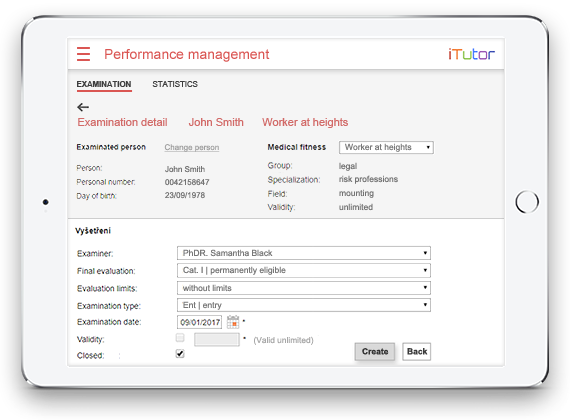 iTutor Medical Fitness

allows you to centrally record the medical fitnesses required for different jobs, define the way they are acquired and refreshed, record the actions that led to their acquiring, and link all of these steps with the iTutor Qualifications.
definition and categorization of required medical fitnesses, their assignment to work positions in the iTutor LMS or their inclusion in the qualification rules in iTutor Qualifications
registering of actions leading to achieve medical fitness, such as medical examinations, psychological or performance tests, entry and extraordinary examinations or other examinations
registration of certificates, validities and watching regular renewal
Více v referencích
Talent management
Competencies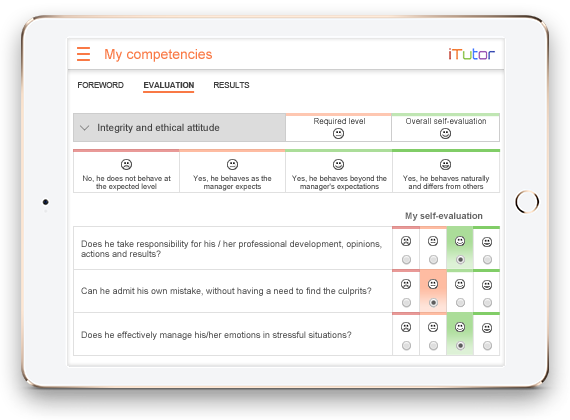 The competency model of the company in the

iTutor Competencies

helps to identify talents for key positions, enables managers, together with employees, to effectively build personal development plans and helps employees to make full use of their potential. Thanks to the

iTutor Competencies

, the employees have the appropriate competencies for their work and are therefore successful in their work.
The competency model of the company, definition of scales, evaluation criteria, allocation of competencies of the required level to the job position
Planning and implementation of manager and employee competency assessments
Planning of training in the iTutor Catalog for the development of required competencies according to the actual results in the iTutor Competencies
Jan Becher - Karlovarská Becherovka, a.s. evaluates the competencies of his employees using iTutor.
The company ČSOB Leasing uses iTutor to ensure the management of education and employee competence assessment
More information in the references
360 Feedback
360 Feedback in the

iTutor Feedback

will allow your employees to gain a new insight into their competencies and abilities from the point of view of their colleagues, superiors, subordinates, partners or customers. It will show them the opportunities to develop their competencies needed for successful work.
The use of competencies from the competence model in the iTutor Competencies or defining new competencies just for 360 feedback
Easy identification of the evaluated persons and evaluators from the organizational model of the company
Approval of evaluators, external evaluators
Planning and timing of the individual phases of the evaluation process
Re-evaluation, re-used evaluation templates
Automated output notices and reports

Jan Becher - Karlovarská Becherovka, a.s. uses 360 Feedback to evaluate his people.
The company ČSOB Leasing enables its employees to gain feedback on their competencies using the iTutor 360 Feedback.
More information in the references